EXScrollBar (state-of-the-art scrollbar control)

The Exontrol's newly exScrollBar control simulates vertical or horizontal scroll bar, slider, track, volume or gauge controls. The exScrollBar component lets the user changes its visual appearance using skins, each one providing an additional visual experience that enhances viewing pleasure. Skins are relatively easy to build and put on any part of the control. The control is written from scratch as most of our controls, and it is not sub classing a scrollbar window class or similar, that's why it supports features never seen in other controls.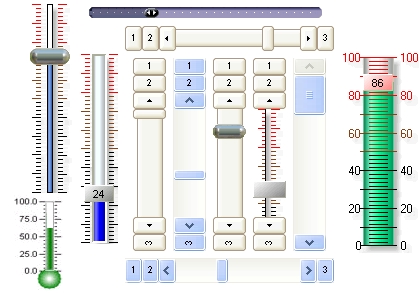 First Look of eXScrollBar:

Features of eXScrollBar include:
WYSWYG Template/Layout Editor support
Skinnable Interface support ( ability to apply a skin to the any background part )
Windows XP Theme support
Mouse Wheel support
Owner Draw support
Ability to have additional controls above the up/left and down/right arrows
Ability to customize the position of the buttons in the control
Multi-lines tooltip support
Ability to put HTML text on any part of the control, includes icons or pictures
and more

General information about eXScrollBar product:
| | |
| --- | --- |
| Identifier: | Exontrol.ScrollBar, exontrol.EXSCROLLBARLib.exscrollbar |
| Version: | 18.0.0.1 |
| Files: | exscrollbar.dll, exscrollbar.ocx, exontrol.exscrollbar.dll, exscrollbar.net |
| Available As: | |
| Compatible with: | VB, VB.NET, VBA, C++, X++, C#, VFP, Access, HTML, Delphi, Smalltalk, eDeveloper, xBasic, Dynamics AX, Dynamics NAV, Visual Objects, PowerBuilder, LabVIEW, Wonderware, Power++, FORTH |
| Lines of code: | 30,543 (26,119 excluding comments and empty lines) |
| Includes: | Objects 2, Functions 90, Events 14, Definitions 7 |
| See Also: | |

Shortcut links:
Copyright 1999-2020 Exontrol. All rights reserved.