EXOrgChart (organigram/wbs chart tree control)

The ExOrgChart component permits the totally automatic generation of organigrams. An organigram generally provides a clear picture of the hierarchical position of the various actors. The ExOrgChart control shows a hierarchical display of nodes, each one having an HTML caption, pictures and icons aligned to any side of the node. The ExOrgChart component lets the user changes its visual appearance using skins, each one providing an additional visual experience that enhances viewing pleasure.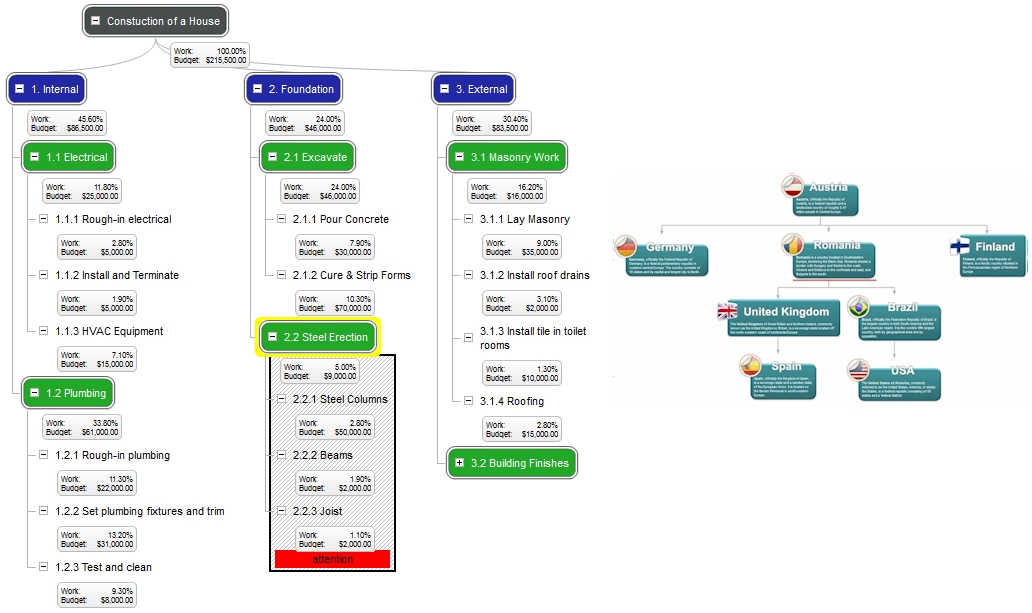 First Look of eXOrgChart:


Features of eXOrgChart include:


General information about eXOrgChart product:
| | |
| --- | --- |
| Identifier: | Exontrol.ChartView, exontrol.EXORGCHARTLib.chartview, wpf.exontrol.EXORGCHARTLib.chartview |
| Version: | 12.0.0.3 |
| Files: | exorgchart.dll, exorgchart.ocx, exontrol.exorgchart.dll, exorgchart.net, wpf.exontrol.exorgchart.dll, exorgchart.wpf |
| Available As: | COM/ActiveX, /NET Assembly, /WPF Component, ANSI or UNICODE, 32 or 64-bit edition, (as separate products) |
| Compatible with: | VB, VB.NET, VBA, C++, X++, C#, VFP, Access, HTML, Delphi, Smalltalk, uniPaas (eDeveloper), Clarion, Dynamics AX, Dynamics NAV, xBasic, Visual Objects, PowerBuilder, LabVIEW, Xbase++, Power++, FORTH |
| Lines of source code: | 145,221 (124,397 excluding comments and empty lines) |
| Includes: | Objects 4, Functions 346, Events 18, Definitions 19 |
| See Also: | EXOTool, eXTree, eXSurface, EBN |


Shortcut links:
Copyright 1999-2016 Exontrol. All rights reserved.