EXComboBox (featured combobox control)

The eXComboBox represents some of the most advanced combobox technology available in the components marketplace. A combo box is a commonly-used GUI tool. It is a combination of a drop-down list or list box and a single-line textbox, allowing the user either to type a value directly into the control or choose from the list of existing options. The eXComboBox component lets the user changes its visual appearance using skins, each one providing an additional visual experience that enhances viewing pleasure. Skins are relatively easy to build and put on any part of the control.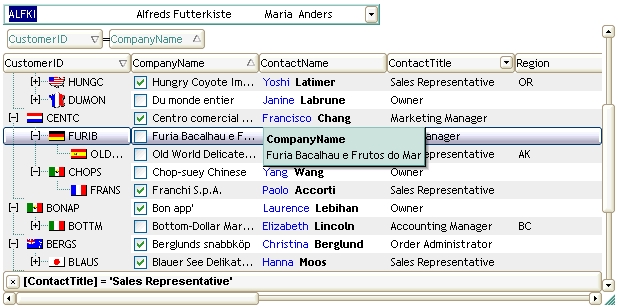 Features of eXComboBox include:


General information about eXComboBox product:
| | |
| --- | --- |
| Identifier: | Exontrol.ComboBox, exontrol.EXCOMBOBOXLib.excombobox |
| Version: | 10.0.0.4 |
| Files: | excombobox.dll, excombobox.ocx, exontrol.excombobox.dll, excombobox.net |
| Available As: | COM/ActiveX, /NET Assembly, /WPF Component, ANSI or UNICODE, 32 or 64-bit edition, (as separate products) |
| Compatible with: | VB, VB.NET, VBA, C++, X++, C#, VFP, Access, HTML, Delphi, Smalltalk, eDeveloper, xBasic, Dynamics AX, Dynamics NAV, Visual Objects, PowerBuilder, LabVIEW, FORTH |
| Lines of source code: | 101,612 (88,702 excluding comments and empty lines) |
| Includes: | Objects 7, Functions 579, Events 34, Definitions 28 |
| See Also: | eXTree, eXGrid, EBN |


Shortcut links:
Copyright 1999-2016 Exontrol. All rights reserved.