Exontrol ExSkin Component
® Copyright 1999-2018 by Exontrol Software, Inc. All Rights Reserved.
Exontrol's ExSkin is an ActiveX control that enables you to change the visual appearance of your project's forms, providing you with the skin (or look&feel) support. Now you can do: any kind of window captions, frames, client and non-client areas and more. The control provides a WYSWYG Skin Builder that helps you to create new skins. Simple place the control on the form, and load a skin and your form's appearance is changed. So, it is possible now to make your program look like any program from MacOS, BeOS, Unix, and create your Winamp-like user interface. Exontrol's ExSkin creates fully interactive user interfaces, allowing end users to easily modify the appearance of applications, as they're using them.
Features include:
.NET Ready / Tested with .NET RCW
Simple to use ( as placing it to a form, and loading a skin file ).
Non rectangular windows support .
WYSYWG Skin Builder included.
Flicker free.
Ability to save files as compressed or uncompressed formats.
Ability to assign a skin file to MDI windows and frames as well.
Ability to load multiple pictures in a single skin file.
Transparent colors support
Ability to load skin files from BASE64 encoded strings
Ability to assign HTML text to the form's caption
Ability to display an image on the form's caption a BASE64 encoded string.
Ability to specify the colors for active or inactive state.
Ability to define coordinates of skin objects using arithmetic expressions including % sign
Ability to load skins at runtime, as well as changing the skin for any non-top window.
Samples for .NET, VB, C++/MFC, Access.
an more.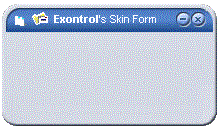 exSkin is a trademark of Exontrol Software, Inc.