Exontrol ExPopupMenu Component
® Copyright 1999-2018 by Exontrol. All Rights Reserved.
The ExPopupMenu ActiveX control allows you to display and handle a shortcut menu (window popup menu) or a window's menu bar. The ExPopupMenu control contains also a MenuButton object that allows attaching a popup menu to a push button. Building the menu is more than intuitive because the control provides a WYSIWYG editor, at design time.
Features include:
Compatible with the Data Execution Prevention (DEP)
Ability to use built-in HTML format inside item
text decorations support for HTML captions, like outlined characters, shadow, ...
Ability to attach a popup menu to a button, MenuButton control
Ability to attach a MenuBar to a window ( form, dialog, etc )
Easy way to handle and simulate a drop-down button control
WYSIWYG editor that helps you to build your menu at design time
ability to add, remove or change the items, at runtime
ability to display images, check boxes, bullets or text as well
ability to load icon's file or folder
standard appearance, flat appearance, NET appearance ( like in the Microsoft NET environment )
FAQ...Most of the frequently questions are here.
Here's a screen shot of WYSIWYG control's editor: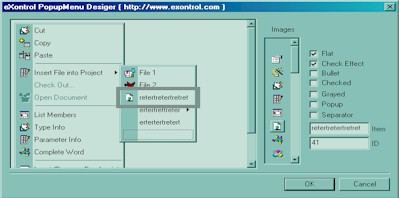 exPopupMenu is a trademark of Exontrol.COM Software